ZAP-IT
This "piezoelectric" device alleviates most common insect bites, such as those of mosquitoes, tiger mosquitoes, bees, and wasps.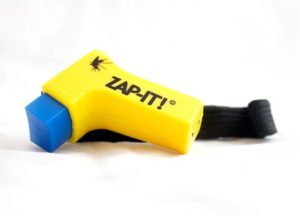 HOW DOES IT WORK?
It creates harmless, low-intensity electrostatic discharges that are generated by the natural crystal quartz source it is equipped with.
When applied to an insect bite, the electric discharge feels like a slight pinch.
 BENEFITS:
It quickly stops itching and the urge to scratch the insect bite.
It reduces the inflammation and marks on the skin.
The electrical discharge blocks the histamine released by the body.
It's simple and easy to use, and its size makes it perfect to carry anywhere.
Clinically tested in the UK and the USA.
Does not contain toxic materials.
Batteries not required.
WHEN TO USE IT?
Directly after being bitten and up to two hours afterwards.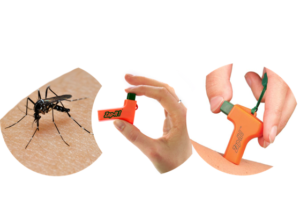 COUNTER-INDICATIONS
Children under the age of four years.
Individuals equipped with a pacemaker.
EXPIRATION
No expiration date. The useful life of ZAP-IT is approximately: 1,000 insect bites (about 10,000 0.7mA discharges with a 10-microsecond duration).