ZAP-IT
It is a "piezoelectric" device to alleviate the most common insect bites: mosquito, tiger mosquito, bees, wasps mainly.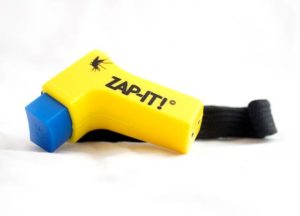 HOW DOES IT WORK?
It creates harmless low-intensity static discharges generated by a natural quartz crystal source incorporated in it.
The electric shock feels like a slight pinch when applied to a sting.
 BENEFITS:
Quickly stops itching and the urge to scratch
Reduces inflammation and skin blemishes
The electric shock inhibits histamine released by the body.
It is simple, easy to use and perfectly sized to go everywhere.
Clinically tested in UK and USA
Does not contain toxic materials
No batteries required. No battery required
WHEN TO USE IT?
After feeling the sting and up to 2 hours later.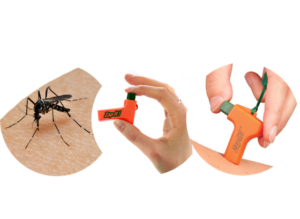 CONTRAINDICATIONS
Under 4 years old
People with pacemakers
EXPIRY
It has no shelf life. The lifetime of ZAP-IT is about : 1,000 bites, approximately 10,000 discharges of 0.7mA and 10 microseconds of duration.