We have just launched our new product CURARTI SELECTIUM innovative formula for to keep joints, muscles and bones in optimal condition.
With all our enthusiasm for this new product, we have designed an easy and fun campaign so that you can enjoy a magnificent product. giftCURARTI FORTE (valued at 22,70 €) for the purchase of a CURARTI SELECTIUM.
It's easy to get your gift:
1º Find your nearest CURARTI store SELECTIUM SELFIE CAMPAIGN in our search engine.
We give you some hints on how to recognize a store with SELFIE CAMPAIGN: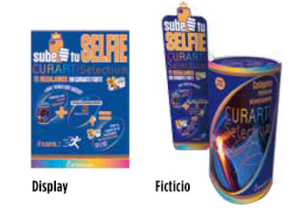 2º Once you are in the store...

3º And off you go!