It has been 10 years since the launch of our drinkable aloe vera and one of the highest quality aloes in Europe, Aloe Verum Premium. And to celebrate it, we wanted to pay tribute to it in style throughout the month of March. After 10 years, the most important indicators that determine its quality have been reanalyzed, and it has been awarded a 9.7 in its functionality index.
Barcelona, Seville, Madrid and San Sebastian are the cities where our flagship celebrates its birthday, with renowned professionals who will give lectures on its multiple benefits.
Last Friday, March 15th at 8 pm, the first meeting took place at the Hotel Vincci Marítimo, led by the General Director of Plameca, Oscar Fernández and with the important presentations of the physiotherapist, posturologist and psychoneuroimmunologist, Xevi Verdaguerand Plameca's R&D Director, José Manuel Llabrés.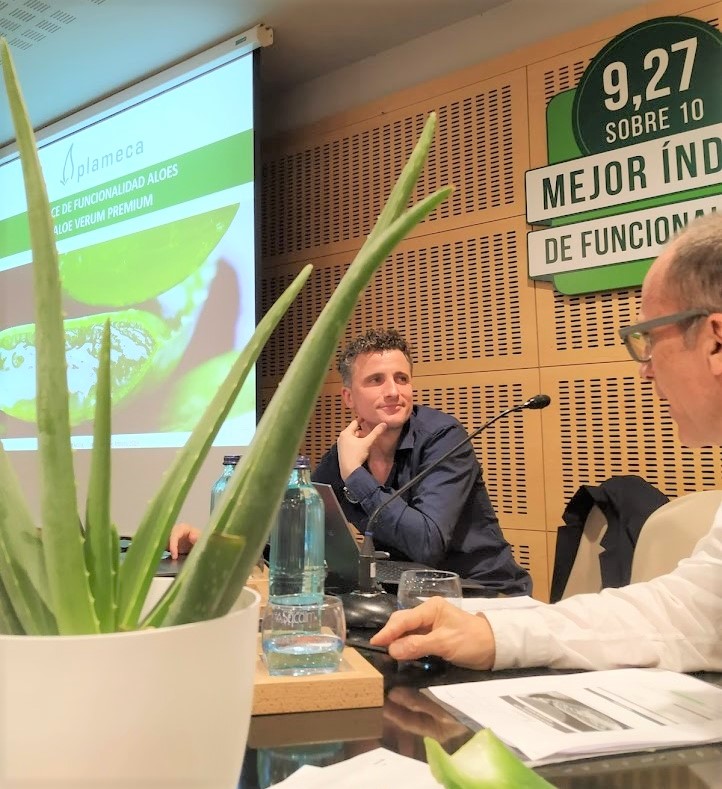 Attendees were able to enjoy a pleasant environment decorated with aloe vera plants and decorative elements that evoked an intellectual yet pleasant space, full of gastrointestinal health.
The event was streamed live from the profile Plameca's Instagram account and had a notorious audience both online and in person. The dinner took place in the hotel's lounge-dining room and terrace, where two long tables were set up with aloe shots under the slogan: "Take a shot of health". Hors d'oeuvres, snacks and dessert were served until the end.
The evening featured a spectacular dose of wisdom, science and biology provided by all the protagonists of the presentations. Those attending the event could enjoy a cocktail afterwards where they could meet Xevi Verdaguer, take pictures in the Photocall and discuss all their doubts.